Iced orange, pineapple & berry cubes
Iced orange, pineapple & berry cubes
Prep 15 mins + overnight freezing time | Makes 20 ice-cubes
Make the ice-blocks in advance so they're ready to serve. Excellent for parties or an after-school refresher!
200g peeled fresh pineapple, chopped
125g blueberries
4 Valencia oranges, juiced
Step 1 To make the ice-cubes, combine pineapple, blueberries and orange juice in a jug.
Step 2 Pour fruit mixture into 2 deep ice-cube trays (about 10 holes each). Freeze overnight.
Serving suggestions:
Serve the cubes in a glass of freshly-squeezed orange juice.
Serve for an after-sport or after-school snack on hot days.
Blend the cubes with fruit juice to make a refreshing slushie.
Good for you ...
Valencia Oranges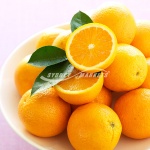 A very good source of vitamin C which contributes to the formation of collagen and its role in healthy gums, teeth, cartilage, bones and skin. Half a large orange supplies one day's recommended intake of vitamin C.
Provides a variety of carotenoids, including some beta carotene which is converted to vitamin A in the body.
A source of folate, a B vitamin that contributes to the normal functioning of the body's immune system.
Low GI (40-51) meaning that the sugars in oranges are broken down slowly and absorbed into the bloodstream.