Home-made tomato sauce
Prep 25 mins | Cook 1 hr 10 mins | Serves about 6 cups
Amazingly, the anchovy gives this delicious tomato sauce a terrific flavour boost.
1⁄4 cup extra virgin olive oil
4 anchovy fillets, finely chopped (optional)
2 medium onions, finely chopped
2 garlic cloves, crushed
2 tbs tomato paste
2.25 kg ripe tomatoes, diced
2 tsp caster sugar
Step 1 Heat oil in a large saucepan over medium heat. Add anchovies if using and cook, stirring, with a wooden spoon, for 4-5 minutes until anchovies dissolve into the oil. Add onions and garlic and cook, stirring often, for 8-10 minutes until very tender.
Step 2 Add tomato paste, increase heat to high and cook, stirring, for 1 minute. Stir in tomatoes and sugar. Bring to the boil then reduce heat to medium-low and simmer, stirring occasionally, for 50-55 minutes until sauce has thickened. Season to taste.
Step 3 Spoon into 3 x 2 cup (500ml) sterilised jars, seal and store in the fridge. Use within 1 month.
Serving suggestions:
Toss tomato sauce and baby rocket leaves through hot spaghetti.
Spoon over pizzas, and barbecued vegetables.
Use to make a quick Bolognese.
Good for you ...
Tomatoes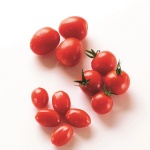 A very good source of vitamin C which contributes to the normal functioning of the body's immune system.
Provides potassium which may help balance the sodium from salt.
A source of dietary fibre which helps the normal function of the intestine.
Tomatoes are the richest food source of lycopene, a member of the carotenoid family. Research suggests that lycopene may play a role in the normal health of the prostate gland. The redder the tomato, the higher its lycopene content. Rich red tomatoes are also a source of beta carotene which is converted into vitamin A in the body and is needed for vision.