Herb-crusted salmon with roasted truss tomatoes
Herb-crusted salmon with roasted truss tomatoes
Prep 25 mins | Cook 15 mins | Serves 4
1⁄2 cup flat-leaf parsley leaves, chopped
2 tbs dill leaves, chopped
1 cup fresh wholegrain breadcrumbs
2 garlic cloves, finely chopped
1⁄3 cup finely grated parmesan cheese
1 tsp grated lemon zest
1⁄4 cup olive oil
4 x 175g thick Atlantic salmon fillets
1 (about 275g) stem cherry truss tomatoes
Olive oil cooking spray
Lemon wedges and a leafy green salad, to serve
Step 1 Preheat oven to 200°C/180°C fan-forced. Line a large baking pan with baking paper. Combine parsley, dill, breadcrumbs, garlic, parmesan and lemon zest in a bowl. Drizzle with oil and mix until well combined. Press breadcrumb mixture onto flesh-side of salmon.
Step 2 Arrange salmon (crumb-side up) and tomatoes in the baking pan. Spray salmon and tomatoes with oil. Season with salt and pepper. Roast for 15-18 minutes (depending on thickness of fish) until fish is just cooked through. Serve with lemon wedges and a green salad.
Good for you ...
Truss Tomatoes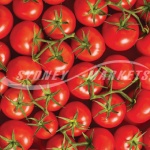 A very good source of vitamin C which contributes to the normal functioning of the body's immune system.
Provides potassium which may help balance the sodium from salt.
A source of dietary fibre which helps the normal function of the intestine.
Tomatoes are the richest food source of lycopene, a member of the carotenoid family. Research suggests that lycopene may play a role in the normal health of the prostate gland. The redder the tomato, the higher its lycopene content. Rich red tomatoes are also a source of beta carotene which is converted into vitamin A in the body and is needed for vision.