Healthy coleslaw with tahini & yoghurt dressing
Healthy coleslaw with tahini & yoghurt dressing
Prep 30 mins | Serves 8 as a side dish
1⁄2 cup currants
1⁄4 savoy cabbage, trimmed and finely shredded
1⁄4 red cabbage, trimmed and finely shredded
2 carrots, peeled and coarsely grated
1 red onion, finely chopped
1⁄2 cup flat-leaf parsley, chopped
1⁄2 cup coriander leaves, chopped
1⁄3 cup toasted salad seed mix
Tahini yoghurt dressing
1⁄3 cup thick Greek-style yoghurt
1⁄3 cup whole egg mayonnaise
1⁄3 cup tahini dip*
2 tbs orange juice
* Tahini dip is available from the supermarket fridge. It's a smooth mild tasting mixture of pure tahini and lemon juice. Substitute with 1⁄3 cup hommus dip if preferred.
Step 1 Place currants in a small heatproof bowl. Cover with water and microwave on high for 1 minute. Set aside.
Step 2 Place savoy and red cabbage, carrots, onion, parsley, coriander and salad seed mix in a large bowl. Drain currants and add to mixture.
Step 3 To make dressing, combine yoghurt, mayonnaise, tahini and orange juice in a bowl. Season with salt and pepper to taste. Whisk well to combine. Drizzle dressing over coleslaw mixture. Toss until well combined, spoon into a serving bowl and serve.
Good for you ...
Red Cabbage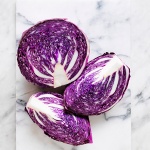 An excellent source of vitamin C, which helps us absorb iron from food.
Provides dietary fibre which helps the intestine function normally.