Grilled capsicum, tomato & chorizo pasta salad
Grilled capsicum, tomato & chorizo pasta salad
Prep 25 mins | Cook 15 mins | Serves 6
Spoon salad into jars, and store in the fridge, so the salad ready for a breezy take-out lunch.
300g wholegrain mini penne pasta
250g chorizo sausages, roughly chopped
1 yellow and 1 red capsicum, quartered lengthways and deseeded
250g mini roma or cherry tomatoes, halved
1 cup flat-leaf parsley leaves, roughly chopped
2 Lebanese cucumbers, quartered lengthways and diced
½ small red onion, finely sliced
½ cup pitted Kalamata olives, halved lengthways
¼ cup extra virgin olive oil
1 tbs balsamic vinegar
Step 1 Cook pasta in a large saucepan of boiling water, following packet directions, until al dente. Drain, rinse well in cold water, set aside to dry then place into a large bowl.
Step 2 Meanwhile, heat a non-stick frying pan over medium-high heat. Add chorizo and cook, stirring occasionally, for 4-5 minutes until golden and crisp. Drain on paper towel. Set aside.
Step 3 Heat a char-grill on medium high heat. Char-grill capsicums for 5-6 minutes on each side until skin slightly blackens. Place capsicum onto a tray, cool slightly then roughly chop. (Note, you can remove the skin if preferred).
Step 4 Add capsicums, chorizo, tomatoes, parsley, cucumbers, onion and olives to pasta. Combine oil and vinegar in a screw-top jar. Season with salt and pepper. Shake until well combined then drizzle over salad. Gently toss to combine and serve.
Good for you ...
Capsicums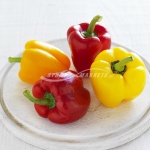 A top source of vitamin C, with just half an average-sized red capsicum supplying 4 times the recommended dietary intake of this important vitamin.
A good source of beta carotene, which the body converts to vitamin A and uses for normal functioning of the immune system.
Provides niacin (vitamin B3), which the body's cells need for the normal release of energy from food.