Green veggie, avocado & egg bowls
Green veggie, avocado & egg bowls
Prep 20 mins | Cook 15 mins | Serves 4
These power-packed bowls are great for breakfast, brunch or a light weeknight dinner.
1 cup white quinoa
1 tbs extra virgin olive oil
250g baby kale leaves, trimmed and thickly sliced
3 green onions (shallots), trimmed and thinly sliced
125g baby spinach leaves
4 free-range eggs (at room temperature)
1 medium ripe avocado
1/3 cup roasted almonds, chopped
Micro-herbs and lemon wedges, to serve
Step 1 Cook quinoa following packet directions. Set aside.
Step 2 Heat oil in a large non-stick frying pan over medium heat. Add kale and green onions and cook, tossing, for 1 minute. Sprinkle with 1 tbs water, cover and cook for 1-2 minutes until just tender. Toss through spinach and cook until just wilted. Stir through quinoa. Season with salt and pepper.
Step 3 Meanwhile, boil the eggs in a small saucepan of boiling water for 5 minutes (for soft boiled). Refresh in cold water and peel.
Step 4 Halve, deseed and peel avocado. Slice avocado lengthways. Spoon spinach and quinoa mixture in 4 serving bowls. Top each with a soft boiled egg and a quarter of the avocado. Sprinkle with almonds and micro-herbs. Serve with lemon wedges.
Good for you ...
Kale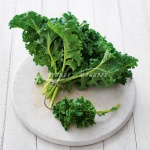 A good source of vitamins, including C and folate (both contribute to normal immune function), E (helps protect cells from damage by free radicals), K (important for normal blood clotting after injury) and beta carotene (converted to vitamin A in the body and necessary for normal vision)
Provides iron (needed for red blood cells) and calcium (important for healthy bones)
A good source of dietary fibre which is important for normal laxation.