Green beans with toasted almonds & hommus
Green beans with toasted almonds & hommus
Prep 10 mins | Cook 10 mins | Serves 4
400g green beans, trimmed
2 tbs olive oil
1⁄3 cup almond kernels, chopped
1 garlic clove, crushed
1 tbs lemon juice
1⁄2 cup hommus dip
Lemon wedges, to serve
Step 1 Cook beans in a saucepan of salted boiling water for 3–4 minutes until almost tender. Drain and refresh in cold water. Pat dry and set aside.
Step 2 Heat oil in a large non-stick frying pan over medium heat. Add almonds and garlic and cook for 1-2 minutes or until almonds are toasted and golden. Add beans and toss over heat for 1 minute. Remove from heat, season with salt and pepper to taste and drizzle with lemon juice. Place in a serving bowl. Serve with hommus and lemon wedges.
Good for you ...
Green Beans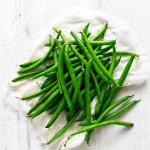 Provide some iron, which is especially useful for choose a vegetarian diet. Iron is needed for making red blood cells, which carry oxygen throughout the body. The vitamin C in beans also helps the absorption of iron.
Beans are also a good source of folate, one of the B vitamins that is important for growth and development in children and for normal blood formation at all ages.