Green bean, spinach & beef salad
Green bean, spinach & beef salad
Prep 15 mins | Cook 12 mins | Serves 4
700 g thick beef rump steak, trimmed
1 tbs olive oil
200g green beans, trimmed
100g baby spinach leaves
250g grape tomatoes, halved lengthways
Horseradish cream mayonnaise
1⁄4 cup whole egg mayonnaise
2 tbs horseradish cream
1 tsp lemon juice
Step 1 To make horseradish cream mayonnaise, combine ingredients in a bowl. Season with salt and pepper to taste. Stir to combine. Set aside.
Step 2 Preheat a char-grill or barbecue over medium-high heat. Brush steak with oil and season with salt and pepper. Char-grill or barbecue steaks for 4–5 minutes each side (for medium rare) or until cooked to your liking. Transfer to a plate, cover and set aside.
Step 3 Meanwhile, cook beans in a small saucepan of boiling water for 2–3 minutes until almost tender. Drain, refresh in cold water and pat dry with paper towel. Arrange spinach, beans and tomatoes on serving plates.
Step 4 Cut steak across the grain into 1-cm thick slices. Arrange steak on serving plates. Serve with horseradish cream mayonnaise.
Good for you ...
Green Beans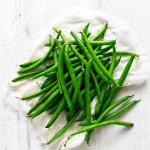 Provide some iron, which is especially useful for choose a vegetarian diet. Iron is needed for making red blood cells, which carry oxygen throughout the body. The vitamin C in beans also helps the absorption of iron.
Beans are also a good source of folate, one of the B vitamins that is important for growth and development in children and for normal blood formation at all ages.