Greek-style veggie & rosemary tray bake
Greek-style veggie & rosemary tray bake
Prep 20 mins | Cook 50 mins | Serves 4-6 as a side dish
Serve these delicious veggies with a roasted chicken or leg of lamb.
500g baby Kestrel or new potatoes
1 red capsicum, halved, deseeded and cut lengthways into thick wedges
250g zucchini, cut diagonally into 1cm thick slices
1 large or 2 small bulbs fennel, trimmed and cut lengthways in
2cm thick wedges
2 small red onions, cut into thin wedges
¼ cup extra virgin olive oil + extra for drizzling
3 garlic cloves, crushed
2 tbs chopped rosemary leaves + a few sprigs
200g mini roma or cherry tomatoes
1/3 cup Kalamata olives
100g Greek feta cheese, crumbled
Step 1 Preheat oven to 200°C fan-forced. Place potatoes in a single layer in a microwave safe dish. Add 1 tbs water. Cover and microwave on high for 5 minutes. Drain potatoes, cool slightly then halve potatoes.
Step 2 Arrange potatoes, capsicum, zucchini, fennel and red onions on two large baking trays lined with baking paper.
Step 3 Combine oil, garlic and chopped rosemary in a small bowl. Season with salt and pepper. Drizzle mixture over vegetables, add a few rosemary sprigs and gently toss to coat. Roast, turning once, for 35-40 minutes until vegetables are tender.
Step 4 Toss tomatoes and olives through the vegetables and roast for a further 10 minutes or until tomatoes are tender. Drizzle with extra virgin olive oil. Sprinkle with feta and serve.
Good for you ...
New Potatoes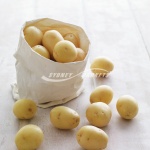 A source of vitamin C, a vitamin that contributes to the normal structure and function of blood vessels throughout the body.
A source of dietary fibre, especially if the skin is left on. Dietary fibre contributes to normal laxation. The skin of potatoes also helps retain vitamins during cooking.
Provides potassium which may help balance sodium from salty foods.