Greek-style stuffed tomatoes
Greek-style stuffed tomatoes
Prep 30 mins | Cook 1 hr | Serves 10
10 medium vine-ripened tomatoes
1 tbs olive oil + olive oil spray
1 medium onion, finely chopped
2 garlic cloves, finely chopped
11⁄2 cups cooked long grain rice*
3⁄4 cup flat-leaf parsley, chopped
1⁄3 cup mint leaves, roughly chopped
75g feta cheese, crumbled
Salt and ground black pepper
Olive oil cooking spray
* For ease, use a 450g packet of 21⁄2 minute rice, cooked following packet directions and cooled.
Step 1 Preheat oven to 180°C/160°C fan-forced. Slice 1cm from the stem end of each tomato and reserve tops. Using a teaspoon, scoop out pulp. Discard seeds and roughly chop pulp. Pat dry tomato cavities using paper towel.
Step 2 Heat 1 tbs oil in a medium frying pan over medium heat. Add onion and garlic and cook, stirring occasionally, for 3 minutes or until onion is tender. Add cooked rice, tomato pulp, parsley, mint and feta. Season with salt and pepper to taste. Stir to combine. Remove from heat.
Step 3 Evenly spoon rice mixture into tomatoes. Arrange tomatoes in a large baking pan lined with baking paper. Place reserved tops on tomatoes. Spray with oil and bake for 45-50 minutes until tender. Serve warm or at room temperature.
Good for you ...
Truss Tomatoes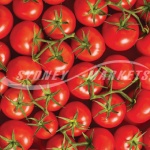 A very good source of vitamin C which contributes to the normal functioning of the body's immune system.
Provides potassium which may help balance the sodium from salt.
A source of dietary fibre which helps the normal function of the intestine.
Tomatoes are the richest food source of lycopene, a member of the carotenoid family. Research suggests that lycopene may play a role in the normal health of the prostate gland. The redder the tomato, the higher its lycopene content. Rich red tomatoes are also a source of beta carotene which is converted into vitamin A in the body and is needed for vision.