Greek lemon & chicken soup
Greek lemon & chicken soup
Prep 20 mins | Cook 1 hr 30 mins | Serves 4
1 free-range chicken, trimmed, rinsed and dried
2 garlic cloves, halved
1 leek, sliced
1 carrot, chopped
2 bay leaves
⅓ cup oregano leaves
½ cup flat leaf parsley sprigs
10 peppercorns
½ cup long grain white rice
4 free-range eggs
½ cup lemon juice
½ cup flat-leaf parsley leaves, chopped
⅓ cup mint leaves, chopped
Step 1 Place chicken in a large deep saucepan. Cover with cold water (approximately 10 cups). Add garlic, leek, carrot, bay leaves, oregano, parsley and peppercorns. Cover and bring to the boil. Reduce heat, partially cover and simmer, skimming surface occasionally, for 1 hour or until chicken is cooked through. Transfer chicken to a plate. Drain stock through a strainer into a large heatproof bowl, reserving 8 cups of stock. Wash and dry the saucepan.
Step 2 Add the reserved 8 cups chicken stock to the saucepan. Bring to the boil over medium-high heat. Add rice and simmer, stirring occasionally, for 15 minutes or until tender. Meanwhile, shred chicken flesh, discarding skin and bones. Set aside.
Step 3 Whisk eggs in a medium bowl then gradually whisk in lemon juice. Gradually whisk 1 cup of the hot chicken and rice stock into egg and lemon mixture. Then whisk egg mixture into the hot stock left in the pan. Gently simmer over low heat until thickened (do not allow to boil). Stir in chicken, parsley and mint. Season well with salt and pepper and serve. Scatter with lemon zest and a few extra mint and parsley leaves if liked.
Good for you ...
Lemons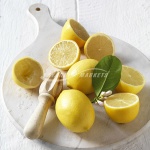 A good source of vitamin C which contributes to the normal functioning of the body's immune system.
The flesh and skin of lemons provide dietary fibre, which helps keep the intestine functioning normally.