Grapes with meringue & lime yoghurt cream
Grapes with meringue & lime yoghurt cream
Prep 15 mins | Serves 4
1 cup thickened cream, whipped
1 cup thick Greek-style yoghurt
1 tsp lime zest + extra to serve
1 tbs lime juice
500g small seedless purple grapes
50g meringues or mini pavlovas, roughly chopped
Step 1 To make lime yoghurt cream, whip cream in a medium bowl until soft peaks form. Fold in yoghurt, lime zest and juice.
Step 2 Wash grapes and remove grapes from stems. To serve, layer lime yoghurt cream, meringues and grapes in serving glasses. Top with a little extra lime zest and serve.
Good for you ...
Seedless Grapes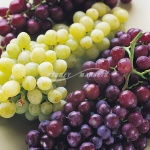 A source of vitamin C which contributes to the normal functioning of the body's immune system.
Provide dietary fibre which assists normal laxation.
Grapes have a low glycaemic Index (48-54) which means their sugars are slowly broken down and absorbed as glucose