Granola & maple syrup baked apples
Granola & maple syrup baked apples
Preparation 25 mins | Cooking 35 mins | Serves 6
1 cup granola
½ tsp ground cinnamon
½ walnuts, chopped
2 tbs pepitas
50g butter, melted
6 apples*
2 tbs maple syrup + extra to serve
Thick Greek-style yoghurt or vanilla ice-cream, to serve
Step 1 Preheat oven to 180°C/160°C fan-forced. Combine granola, cinnamon, walnuts, pepitas and butter in a bowl. Mix until well combined.
Step 2 Using a small sharp knife, cut a deep circle around the apple stem and remove the top, set aside. Using a small teaspoon, scoop out core and seeds to form a cavity. Spoon granola mixture into each.
Step 3 Arrange apples in a greased baking pan. Drizzle apples with maple syrup and bake for 35-40 minutes or until just tender. Serve with thick Greek yoghurt or vanilla ice-cream.
*Note, Golden Delicious, Fuji and Granny Smith apples are best for baking.
Good for you ...
Apples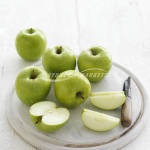 Apples contain a source of dietary fibre and natural sorbitol. Both fibre and sorbitol help keep us regular.
A good source of vitamin C, among its many functions, contributes to healthy gums. Low GI meaning the natural sugars are digested slowly, releasing energy gradually.