Granny Smith apple tart
Prep 40 mins | Cook 1 hr | Serves 8
Pastry
21⁄3 cups plain flour
1 tbs icing sugar mixture + extra for dusting
200g chilled unsalted butter, chopped
Pinch salt
Approx. 1⁄3 cup iced water
Filling
1.75 kg Granny Smith apples, peeled, quartered, cored and cut into 1cm-thick slices
2 tbs lemon juice
1⁄2 cup caster sugar + 1 tbs extra for sprinkling pastry
1 tbs cornflour
1⁄2 tsp ground cinnamon
1 tbs water
1 egg, lightly beaten with 2 tsp water
Icing sugar mixture, for dusting
Step 1 To make pastry, place flour, icing sugar and salt in a food processor. Process to combine. Add butter and pulse until mixture resembles fine breadcrumbs. With processor running, add water and briefly process until pastry clumps. Turn out to a lightly floured surface and form into a ball. Wrap in plastic wrap, chill for 20 minutes.
Step 2 Meanwhile, combine apples, lemon juice and sugar in a large non-stick frying pan. Cook, stirring often, over medium heat for 10–12 minutes, until apple has softened. Combine cornflour and cinnamon with 1 tbs water to form a paste. Drizzle over apples. Stir to combine and cook, stirring often, for 1 minute. Set aside to cool.
Step 3 Preheat oven to 180°C/160°C fan-forced. Roll out pastry on a lightly floured surface to 35cm wide. Place onto a large baking tray, 25cm (base size) tart or pie pan, lined with baking paper. Drain cooled apples and leaving a 6cm pastry border, spoon apple onto pastry. Fold pastry border over apple. Brush with beaten egg, sprinkle with 1 tbs extra caster sugar. Bake for 40–45 minutes until pastry is golden. Cool for 15 minutes. Remove from tray or pan. Dust with icing sugar. Serve with vanilla ice-cream.
Good for you ...
Granny Smith Apples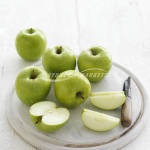 A good source of dietary fibre that helps keep us regular.
Provide vitamin C. Among its many functions, vitamin C contributes to collagen which plays a role in healthy gums, teeth, bones, cartilage and skin.
Low GI (less than 55) which means the natural sugars in apples are slowly digested to glucose.