Granny Smith apple crumble
Granny Smith apple crumble
Prep 30 mins | Cook 50 mins | Serves 6-8
1.5kg Granny Smith apples, peeled, cored and cut into thin wedges
3⁄4 cup caster sugar
2 tbs lemon juice
1⁄3 cup sultanas
Vanilla ice-cream, to serve
Crumble topping
1 cup plain flour
1⁄2 cup brown sugar
1 tsp ground cinnamon
125g butter, chilled and chopped
1⁄3 cup slivered almonds
Step 1 Preheat oven to 180°C/160°C fan-forced. Place apples, sugar, lemon juice and sultanas in a bowl. Toss to combine. Transfer to a greased 8-cup ovenproof dish.
Step 2 To make crumble, place flour, sugar and cinnamon in a food processor. Process to combine. Add butter and process until roughly crumbled. Stir in almonds. Sprinkle crumble over apples. Bake for 50 minutes until topping is golden and crisp and apple is tender. Serve with vanilla ice-cream.
Good for you ...
Granny Smith Apples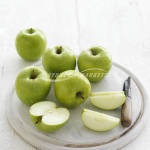 A good source of dietary fibre that helps keep us regular.
Provide vitamin C. Among its many functions, vitamin C contributes to collagen which plays a role in healthy gums, teeth, bones, cartilage and skin.
Low GI (less than 55) which means the natural sugars in apples are slowly digested to glucose.