Fruit skewers with butterscotch dip
Fruit skewers with butterscotch dip
Prep 10 mins | Cook 10 mins | Serves 4
2 large mandarins, peeled and segmented
2 ripe bananas, peeled and cut into 2cm thick slices
2 kiwifruit, peeled, halved and cut into 1cm slices
Butterscotch dip
1⁄4 cup golden syrup
1 cup light thickened cream
1⁄4 cup brown sugar
1 teaspoon cornflour
1 tablespoon cold water
Step 1 To make butterscotch dip, combine golden syrup, cream and brown sugar in a small saucepan. Stir over medium-low heat until sugar dissolves. Bring to the boil. Remove from heat. Combine cornflour and water in a cup to form a paste. Stir cornflour mixture into sauce and cook, stirring constantly, for 3–4 minutes over low heat until thickened. Remove from heat and set aside to cool slightly. Pour into small dipping bowls.
Step 2 Thread fruit onto small bamboo skewers. Serve with warm butterscotch dip.
Good for you ...
Imperial Mandarins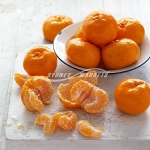 A good source of vitamin C. This vitamin contributes to collagen which plays a role in healthy gums, teeth, bones, cartilage and skin. One large mandarin will provide the daily need for vitamin C.
Provide dietary fibre which is important for the normal function of the intestine.
A source of potassium, which may help balance the sodium from salt.
A source of xanthophyll, one of the carotenoid family of antioxidants.