Fried veggie rice with ham & eggs
Fried veggie rice with ham & eggs
Prep 20 mins | Cook 10 mins | Serves 4
For convenience, use leftover rice or quick cook rice that is cooled.
2 tbs peanut oil
2 free range eggs
2 green onions (shallots), trimmed and thinly sliced
1 bunch broccolini, cut into 5cm pieces
1 carrot, peeled and diced
1 stick celery, diced
1 sweetcorn cob, kernels sliced off the cob
150g sliced leg ham, chopped
4 cups cold cooked jasmine rice
11⁄2 tbs salt reduced soy sauce
1 cup bean sprouts, trimmed
Step 1 Heat a wok over high heat. Add 2 tsp oil and swirl to coat wok. Crack an egg into the wok and cook for 1 minute until almost set, turn and cook for a further minute until set. Transfer to a plate. Repeat using remaining egg. Set aside.
Step 2 Add remaining 1½ tbs oil to the wok and heat. Add green onions, broccolini, carrot, celery and corn. Stir-fry for 2-3 minutes until tender.Add ham, rice and soy sauce and stir-fry until hot and well combined. Toss through bean sprouts and cook for 1 minute. Roughly chop eggs and fold through rice and serve.
Good for you ...
Sweet Corn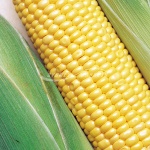 A good source of dietary fibre which contributes to normal laxation.
Provides niacin (vitamin B3) which is needed for the release of energy from food and also the B vitamins biotin and folate. Biotin contributes to the maintenance of healthy skin, mucous membranes and hair while folate is needed for the formation of blood cells. Also provides some iron that is needed for making red blood cells.
A source of potassium that may help balance the sodium in salty foods.
The carbohydrate in sweetcorn is digested slowly and has a low glycaemic index (GI)