Fresh summer berry, mascarpone & chocolate trifle
Fresh summer berry, mascarpone & chocolate trifle
Prep 40 mins + chilling time | Cook 5 mins | Serves 8
Berry Jelly:
1 litre cranberry juice
2 tbs powdered gelatine
250g blueberries
Mascarpone yoghurt cream:
500g mascarpone
1 cup thick Greek-style yoghurt
1-2 tbs icing sugar (to your taste)
Additional toppings:
2 tbs amaretto liqueur (optional)
3 (about 200g) chocolate brownies, roughly crumbled
500g fresh berries like raspberries, blueberries and blackberries
6-7 fresh cherries
2 tbs grated dark chocolate
Step 1 To make berry jelly, place 1 cup cranberry juice into a large heatproof jug. Sprinkle over gelatine and immediately whisk until dissolved. Place remaining 3 cups cranberry juice into a small saucepan and bring to the boil over high heat. Whisk boiled juice into the gelatine mixture until well combined. Set aside to cool for 30 minutes. Pour jelly into a large (about 8 cup) trifle dish and sprinkle with blueberries. Refrigerate jelly for 4 hours or until set.
Step 2 To make mascarpone yoghurt cream, place mascarpone, yoghurt and icing sugar into a large bowl and whisk until smooth. Chill until ready to assemble the trifle.
Step 3 To assemble the trifle, top the berry jelly with half of the mascarpone mixture. Sprinkle with the chopped brownies and drizzle with amaretto liqueur if using. Top with one third of the fresh berries. Spoon over remaining mascarpone yoghurt cream. Top with remaining berries and cherries. Sprinkle with grated dark chocolate. Chill for 1-2 hours or until ready to serve.
Good for you ...
Raspberries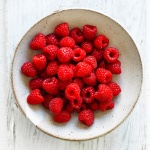 A very good source of dietary fibre which helps keep the intestine functioning normally.
A source of folate, a B vitamin needed for normal blood formation.
A very good source of vitamin C which contributes to the normal functioning of the body's immune system.
Provide some folate (important for heart health) and small quantities of vitamin E which is important for keeping red blood cells healthy