Fresh pineapple, bacon & tomato pizza
Fresh pineapple, bacon & tomato pizza
Prep 10 mins | Cook 15 mins | Serves 4-6
2 large pizza bases
1/3 cup barbecue sauce
150g rindless bacon, chopped
250g mini roma tomatoes, halved lengthways
½ small pineapple, peeled, cored and chopped
1 cup grated mozzarella cheese
Step 1 Preheat oven to 240°C/220°C fan-forced. Spread pizza bases with barbecue sauce. Top with bacon, tomatoes and pineapple. Sprinkle with cheese.
Step 2 Place pizzas onto baking trays. Bake for 15 minutes or until cheese melts and bases are crisp. Slice and serve.
Good for you ...
Pineapple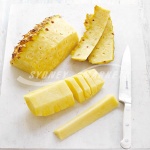 A good source of manganese, a mineral that contributes to the normal formation of bone and connective tissue.
A good source of vitamin C, which contributes to the normal functioning of the body's immune system.
Provides dietary fibre, which helps the intestine function normally.