Fresh orange bircher muesli
Fresh orange bircher muesli
Prep 20 mins + chilling time | Serves 4-6
Sweet fresh orange juice is a great source of vitamin C. Use Navel oranges when Valencia oranges are out of season.
6 Valencia oranges
2 cups bircher museli or rolled oats
To serve:
1 Granny Smith apple
½ cup reduced fat thick natural yoghurt
3 passionfruit, halved
150g seedless green and purple grapes
1 medium banana, sliced
Honey, for drizzling
Step 1 Juice the oranges to make 1½ cups freshly squeezed juice. Combine the orange juice and bircher muesli or rolled oats in an airtight container. Stir to combine. Cover and refrigerate over-night.
Step 2 To serve, coarsely grate apple. Add apple, yoghurt and the pulp from 2 passionfruit to the muesli mixture. Stir to combine. Spoon into serving bowls. Top with grapes, banana and remaining passionfruit pulp. Drizzle with honey and serve.
Good for you ...
Passionfruits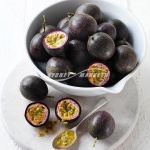 A very good source of dietary fibre which assists normal laxation. Among fruit, passionfruit come top of the class for dietary fibre.
A good source of beta carotene which the body converts to vitamin A. This vitamin is important for normal vision.
A good source of vitamin C which contributes to the normal functioning of the body's immune system.
Provide the B vitamins riboflavin (B2) and niacin (B3), both of which contribute to the normal release of energy from food.