Fresh herb salsa with BBQ beef & bean salad
Fresh herb salsa with BBQ beef & bean salad
Prep 20 mins | Cook 8 mins | Serves 4
8 x 1⁄2 cm-thick slices lean beef sirloin, scotch fillet or rump steak
2 tbs olive oil
2 garlic cloves, finely chopped
300g green and/or butter beans, trimmed
3 radishes, trimmed and very finely sliced
Fresh Herb Salsa
1⁄2 cup flat-leaf parsley leaves
1⁄3 cup mint leaves
1⁄4 cup dill leaves
11⁄2 tbs baby capers, rinsed
1 garlic clove, chopped
2 tbs lemon juice
100ml extra virgin olive oil
1 tsp caster sugar
Step 1 To make fresh herb salsa, place all ingredients in a food processor. Process until evenly chopped and well combined. Season with salt and pepper to taste. Set aside.
Step 2 Using a meat mallet, flatten steaks until thin. Place in a medium dish. Combine oil and garlic in a jug. Season with salt and pepper. Drizzle oil mixture over steaks and toss steaks to coat. Cover and set aside for 10 minutes.
Step 3 Meanwhile, heat a medium saucepan of boiling water over high heat. Add beans and cook for 2-3 minutes until just tender. Drain, refresh in cold water and pat dry with paper towel.
Step 4 Heat a large heavy-based frying pan over high heat until very hot. Cook steaks, in batches, for about 30 seconds on each side until evenly seared. Transfer to a plate. Cover and rest for 5 minutes. Arrange beans, radishes and steaks on serving plates. Serve with fresh herb salsa.
Good for you ...
Green Beans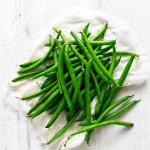 Provide some iron, which is especially useful for choose a vegetarian diet. Iron is needed for making red blood cells, which carry oxygen throughout the body. The vitamin C in beans also helps the absorption of iron.
Beans are also a good source of folate, one of the B vitamins that is important for growth and development in children and for normal blood formation at all ages.