Fresh green pea, cauliflower & feta 'tabouli'
Fresh green pea, cauliflower & feta 'tabouli'
Prep 40 mins | Serves 4-6
This delicious 'tabouli' style salad is simply brimming with fresh raw veggies. Serve it as a side dish or toss through some canned chickpeas to make it a light meal.
750g fresh green peas, podded (yielding about 300g peas)
1 medium head cauliflower, trimmed and cut into florets (about 700g florets)
1/3 cup lemon juice
1/4 cup extra virgin olive oil
1 garlic clove, crushed
1 telegraph cucumber, quartered lengthways, deseeded and chopped
2 vine-ripened tomatoes, deseeded and diced
4 green onions (shallots), trimmed and thinly sliced
1 cup flat-leaf parsley leaves, chopped
½ cup mint leaves, chopped
100g feta cheese, crumbled
Step 1 Plunge green peas into a frying pan of simmering water and cook for 2-3 minutes until vibrant and just tender. Drain and rinse in cold water. Set peas aside to dry.
Step 2 Pulse cauliflower, in batches, in a food processor until chopped and resembling rice. Place into a large bowl.
Step 3 Combine lemon juice, oil and garlic in a screw-top jar. Season well with salt and pepper. Shake until well combined. Drizzle lemon mixture over cauliflower. Set aside, tossing occasionally, for 5 minutes.
Step 4 Add cucumber, tomatoes, green onions, parsley, mint, green peas and feta to the cauliflower. Drizzle with extra virgin olive oil if liked. Gently toss to combine and serve.
Good for you ...
Green Peas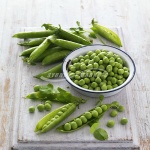 A source of protein needed for growth and repair of tissues.
A good source of dietary fibre, which helps normal laxation.
Provide B complex vitamins thiamin (B1), riboflavin (B2), niacin (B3) and folate, all needed for normal growth and development.
A source of iron, which is needed for normal cognitive function.