Fresh fruits with date, pecan & honey yoghurt
Fresh fruits with date, pecan & honey yoghurt
Prep 15 mins + chilling | Serves 4
The yoghurt is best made in advance and stored in an airtight container so it's ready for breakfast. The dates soften and give the yoghurt a delicious caramel flavour.
Date, pecan & honey yoghurt
500g thick natural yoghurt
200g Medjool dates, deseed and roughly chopped
2 tbs honey
1⁄4 cup pecan nuts, roughly chopped
To serve
250g strawberries, hulled and sliced
4 ripe kiwifruit (golden and green), peeled and sliced
Step 1 To make date, pecan and honey yoghurt, place yoghurt, dates, honey and pecans into a bowl. Stir to combine. Chill in an airtight container until ready to serve.
Step 2 To serve, arrange sliced fruit on 4 serving plates. Spoon yoghurt into 4 individual serving pots and serve with fruit.
Good for you ...
Dates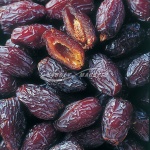 A good source of dietary fibre which is helps keep the intestine functioning normally.
Fresh dates are a source of vitamin C, which contributes to the normal functioning of the body's immune system.
Provide some folate, a B vitamin that is needed for normal formation of blood cells.
A source of potassium which may help balance the effects of the sodium from salt in the diet.