Fresh fruit with French toast
Fresh fruit with French toast
Prep 10 mins | Cook 10 mins | Serves 4
3 eggs
3⁄4 cup reduced fat milk
1⁄4 cup caster sugar
1⁄2 tsp vanilla extract
4 thick slices white bread or raisin bread
50g butter
Icing sugar, for dusting
To serve
2 small bananas, thinly sliced
250g strawberries, hulled and sliced
150g blueberries
Step 1 To make French toast, whisk eggs, milk, sugar and vanilla in a medium jug until well combined. Pour into a medium shallow dish. Heat a large non-stick frying pan over medium heat. Add half the butter and heat until sizzling. Dip 2 slices bread in egg mixture for 20 seconds on each side. Pan-fry for 2 minutes on each side or until light golden. Transfer to a plate and keep warm. Repeat using remaining butter, bread and egg mixture.
Step 2 Place French toast onto serving plates. Top with bananas, strawberries and blueberries. Lightly dust with icing sugar and serve.
Good for you ...
Blueberries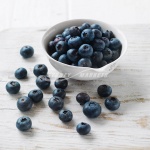 A good source of vitamin C which contributes to the normal functioning of the body's immune system.
Provide vitamin E, an antioxidant vitamin that helps protect cells from damage due to free radicals.
A source of dietary fibre, which is important for the normal functioning of the intestine.
The natural purple pigments are antioxidants and may boost the body's level of these compounds.