Fresh fruit & apple jelly
Fresh fruit & apple jelly
Prep 25 mins + chilling time | Serves 4
Apple Jelly
1 x 85g packet 'Create a Jelly' crystals*
1 cup boiling water
200ml fresh apple juice
To serve
2 oranges, peeled and chopped
1⁄4 small pineapple, peeled, cored and chopped
125g strawberries, hulled and halved lengthways
*We used Aeroplane brand 'Create a Jelly' from the supermarket
Step 1 Place jelly crystals into a heatproof jug. Add boiling water and stir until crystals dissolve. Stir in apple juice. Evenly pour jelly mixture into 4 x 1 cup serving glasses. Refrigerate for 4-5 hours or until set.
Step 2 To serve, combine oranges, pineapple and strawberries in a bowl. Spoon fruit over jellies and serve.
Good for you ...
Strawberries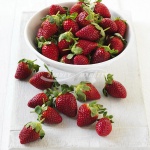 A good source of vitamin C which contributes to formation of collagen and thus plays a role in healthy gums, teeth, bones, cartilage and skin.
A source of folate, a B vitamin needed for normal blood formation.
Provide dietary fibre, which is important for the normal functioning of the intestine.
Also contain lutein, one of the carotenoid family that is involved in normal eye health.