Fresh blueberry cream scones
Fresh blueberry cream scones
Prep 20 mins | Cook 20 mins | Makes 12
These heavenly blueberry scones are perfect for morning or afternoon tea.
3 cups self-raising flour
2 tsp baking powder
2 tbs icing sugar + extra for dusting
½ tsp salt
125g punnet blueberries
2/3 cup thickened cream + extra for brushing
¾ cup sparkling mineral water
1 tbs lemon juice
To serve:
125g punnet blueberries
Whipped cream
Step 1 Preheat oven to 200°C/180°C fan-forced. Line a 20cm (base measurement) square cake pan (alternatively use a baking tray) with non-stick baking paper.
Step 2 Sift flour, baking powder, icing sugar and salt into a large bowl. Stir in blueberries. Make a well in the centre. Mix cream, sparkling water and lemon juice in a jug. Quickly pour into dry ingredients. Using a flat-bladed knife, mix until a rough dough forms.
Step 3 Turn out onto a lightly floured surface and gently knead dough until smooth. Press out dough until 3cm thick. Using a 5cm-wide floured cookie cutter (or a glass), cut out 12 rounds and arrange in prepared baking pan. Lightly brush with cream. Bake for 20-25 minutes until puffed and pale golden. Remove scones from pan and wrap in a clean tea towel. Stand for 15 minutes.
Step 4 Dust scones with icing sugar. Serve with blueberries and whipped cream.
Good for you ...
Blueberries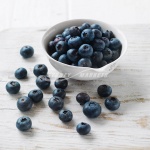 A good source of vitamin C which contributes to the normal functioning of the body's immune system.
Provide vitamin E, an antioxidant vitamin that helps protect cells from damage due to free radicals.
A source of dietary fibre, which is important for the normal functioning of the intestine.
The natural purple pigments are antioxidants and may boost the body's level of these compounds.