French onion soup with cheese toast
French onion soup with cheese toast
Preparation 35 mins | Cooking 1 hour 30 mins | Serves 4
50g butter
1.5 kg brown onions, sliced
3 garlic cloves, finely chopped
1 tsp brown sugar
6 cups beef stock
2 bay leaves
2 tsp red wine vinegar
Cheese toast:
4 thick slices baguette bread
Olive oil for brushing
2 garlic cloves, halved lengthways
150g grated gruyére or tasty cheese
Step 1 Heat oil and butter in a large saucepan over medium-low heat until butter sizzles. Add onions, garlic and sugar and cook, stirring occasionally, for 25-30 minutes until onions are soft and transparent. Uncover and cook, stirring often, over medium heat for 30 minutes or until onions are deep golden and caramelised.
Step 2 Stir in stock and bay leaves. Cover and bring to the boil over medium-high heat. Reduce heat, cover and simmer, stirring occasionally, for 30 minutes. Season with salt and pepper to taste. Stir in vinegar.
Step 3 Just before serving, to make cheese toasts, preheat a grill on high and line a grill tray with foil. Brush bread on both sides with oil and rub with the cut-side of the garlic. Grill bread on one side until golden. Turn slices over and top with cheese. Grill until cheese bubbles.
Step 4 Ladle soup into serving bowls and serve with the cheese toast.
Good for you ...
Brown Onions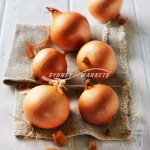 A rich source of a variety of natural sulphur compounds that may have health benefits.
A source of dietary fibre which helps keep the intestine functioning normally and also vitamin C, which contributes to normal immune function.
Onions provide small amounts of many minerals and vitamins that add to our daily intake of these essential nutrients.