Fragrant butternut pumpkin soup
Fragrant Butternut Pumpkin Soup – Sydney Markets
Prep 20 mins | Cook 35 mins | Serves 4
The soup thickens on standing, add extra stock if necessary.
2 tbs peanut oil
2 garlic cloves, finely chopped
3 cm piece ginger, finely grated
1 Bird's Eye red chilli, deseeded and chopped
1.3 kg butternut pumpkin, peeled, deseeded and diced
2 fresh kaffir lime leaves (optional)
4 cups chicken stock
1⁄2 cup reduced fat coconut milk
Coriander leaves, finely sliced red chilli and kaffir lime leaves, to serve
Step 1 Heat oil in a large saucepan over medium heat. Add garlic, ginger and red chilli and cook for 1 minute. Add pumpkin and cook, stirring often, for 5 minutes. Add kaffir lime leaves (if using) and stock. Bring to the boil. Reduce heat to medium-low and cook, stirring occasionally, for 20–25 minutes until pumpkin is tender. Remove kaffir lime leaves.
Step 2 Blend soup until smooth. Stir in coconut milk and season with salt and pepper to taste. Heat, stirring occasionally over low heat until hot. Ladle into serving bowls, top with coriander leaves, kaffir lime leaves and chilli and serve.
Good for you ...
Butternut Pumpkin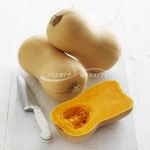 Provides beta carotene, converted to vitamin A in the body and needed for normal vision. The deeper the colour, the higher the content of beta carotene.
A source of vitamin C, which contributes to the normal functioning of the body's immune system.
Provides folate, a B vitamin that is necessary for formation of normal blood cells.