Finger lime, avocado, chilli & chicken salad
Finger lime, avocado, chilli & chicken salad
Prep 25 mins | Cook 10 mins | Serves 4
700g small free-range chicken breast fillets
4-5 finger limes
5 coriander roots, washed and roughly chopped
1 telegraph cucumber, halved lengthways, deseeded and thinly sliced
1 carrot, peeled and cut into thin strips lengthways
1 cup small mint leaves, chopped
1 cup coriander leaves
2 long red chillies, deseeded and thinly sliced
1 ripe avocado, peeled and diced
1 tbs lime juice
Rice noodles, to serve
Lime & sesame dressing:
1 tsp sesame sauce
2 tbs lime juice
2 tbs mirin
1 tbs rice wine vinegar
3 tsp soy sauce
Step 1 Place chicken into a medium frying pan. Using a vegetable peeler, slice rind from the finger limes. Add finger lime rind and coriander roots to pan. Cover with water. Cover and gently bring to the boil over medium low heat. Reduce heat and simmer, for 10 minutes. Turn off heat and stand, covered, for 10 minutes or until just cooked through. Transfer to a plate, cover and cool in the fridge.
Step 2 Meanwhile, combine cucumber, carrot, mint, coriander and chilli in a large bowl. Toss avocado and lime juice in a small bowl. To make dressing; combine all ingredients in a screw-top jar. Shake until well combined.
Step 3 Shred cooled chicken and toss through the cucumber salad. Drizzle with the dressing and gently toss to combine. Arrange on serving plates. Top with avocado and micro herbs if liked. Serve with rice noodles.
Good for you ...
Finger Limes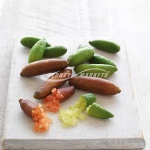 A very good source of vitamin C which helps the normal functioning of the body's immune system. 50g of finger lime will supply the daily need for vitamin C.
A very good source of dietary fibre which is needed for normal laxation.
Provides potassium which may help balance the effects of sodium from salt.