Finger lime & ginger dressing on oysters
Finger lime & ginger dressing on oysters
Prep 15 mins | Makes 12
Citrus tasting, crunchy finger lime "caviar-like" pearls simply burst with flavour and juice. It teams superbly with oysters and this Asian-inspired dressing for an easy entrée to share.
1 tbs lime juice
1 tsp finely grated ginger
¼ cup mirin
1 tbs rice wine vinegar
2 tsp salt reduced soy sauce
1 tsp sesame oil
12 freshly-shucked oysters
4-6 finger limes* (depending on size)
Micro-shiso or your choice of micro-herbs**, to serve
Step 1 Combine lime juice, ginger, mirin, rice wine vinegar, soy sauce and sesame oil in a bowl. Whisk until well combined.
Step 2 Arrange oysters on a bed of ice on a serving platter. Spoon dressing over oysters. Sprinkle with finger lime pulp and shiso or micro-herbs and serve.
* Finger limes vary in size and colour, choose a selection for this recipe.
** Micro-herbs are sold by the punnet in your greengrocer. Shiso is a Japanese herb with a slightly minty aniseed flavour.
Good for you ...
Finger Limes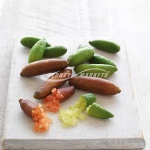 A very good source of vitamin C which helps the normal functioning of the body's immune system. 50g of finger lime will supply the daily need for vitamin C.
A very good source of dietary fibre which is needed for normal laxation.
Provides potassium which may help balance the effects of sodium from salt.