Figs with blue cheese & prosciutto
Figs with blue cheese & prosciutto
Prep 20 mins | Cook 10 mins | Serves 4
8 plump figs
125g soft blue cheese, cut into 8 pieces
8 thin slices prosciutto
1 tbs extra virgin olive oil
1 tbs caramelised balsamic vinegar
Step 1 Preheat oven to 200°C/180°C fan-forced. Trim fig stems and cut a small cross into the top of each fig. Insert a piece of blue cheese into each cross.
Step 2 Wrap each fig in a slice of prosciutto and secure with a toothpick. Place into a baking pan lined with baking paper. Drizzle with oil and caramelised balsamic vinegar. Season with salt and pepper to taste.
Step 3 Roast for 12-15 minutes until cheese melts and figs are warmed through. Remove toothpicks. Serve drizzled with the pan juices.
Good for you ...
Figs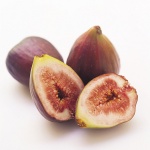 A source of dietary fibre which helps with normal laxation. The fibre is concentrated in the fig seeds.
A source of vitamin C, which contributes to the normal functioning of the body's immune system.