Fig, honeyed walnut & blue cheese salad
Fig, honeyed walnut & blue cheese salad
Prep 15 mins | Cook 5 mins | Serves 4
3/4 cup walnut pieces
¼ cup honey
2 tablespoons linseeds
125g mixed baby salad greens
6 plump figs, quartered
200g creamy blue cheese, crumbled
Red wine vinegar dressing:
1½ tbs red wine vinegar
¼ cup extra virgin olive oil
Step 1 Line a baking tray with baking paper. Heat a small frying pan over medium heat. Add walnuts and cook, stirring often, for 2 minutes until lightly toasted. Add honey and linseeds. Season with salt and pepper and cook, stirring occasionally, for 3-4 minutes until honey is bubbling. Spread the walnut mixture onto the baking tray. Set aside to cool.
Step 2 Arrange salad greens on a serving platter. Top with figs and sprinkle with blue cheese. Roughly chop honeyed walnuts.
Step 3 To make the red wine dressing, combine all ingredients in a screw-top jar. Season with salt and pepper. Shake until well combined.
Step 4 Drizzle salad with the dressing and gently toss. Scatter with honeyed walnuts and serve.
Good for you ...
Figs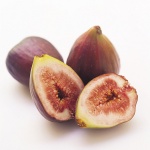 A source of dietary fibre which helps with normal laxation. The fibre is concentrated in the fig seeds.
A source of vitamin C, which contributes to the normal functioning of the body's immune system.