Fig clafoutis
Prep 20 mins | Cook 35 mins | Serves 4-6
This simple French-style custard is delicious served straight from the oven.
6 plump ripe figs, halved
½ cup plain flour
1 tsp ground cinnamon
½ tsp baking powder
½ cup caster sugar
3 free-range eggs (at room temperature)
1½ cups milk
1 tsp vanilla extract
2 tbs natural flaked almonds
Icing sugar, for dusting and a drizzle of maple syrup
Step 1 Preheat oven to 180°C/160°C fan-forced. Grease a 6-cup shallow (about 4-5 cm deep) baking dish. Arrange figs in the baking dish.
Step 2 Sift flour, cinnamon and baking powder into a large bowl. Stir in sugar and mix to combine. Set aside.
Step 3 Whisk eggs, milk and vanilla in a jug. Gradually whisk egg mixture into the flour mixture, whisking until batter is smooth. Pour mixture over figs and sprinkle with almonds. Place dish onto a baking tray and bake for 35-40 minutes until puffed and golden. Dust with icing sugar and drizzle with maple syrup. Serve immediately.
Good for you ...
Figs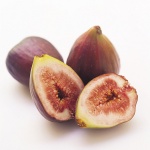 A source of dietary fibre which helps with normal laxation. The fibre is concentrated in the fig seeds.
A source of vitamin C, which contributes to the normal functioning of the body's immune system.