Fennel, tomato & Italian sausage spaghetti
Fennel, tomato & Italian sausage spaghetti
Prep 20 mins | Cook 30 mins | Serves 4
2 tbs olive oil
400g Italian pork sausages, casings removed
1 red onion, chopped
1 large bulb fennel, trimmed, quartered and thinly sliced
3 garlic cloves, finely chopped
500ml tomato pasta sauce
400g dried spaghetti
1 tbs lemon juice
⅓ cup small black olives
½ cup flat-leaf parsley leaves, chopped
1 tbs finely grated lemon rind
Step 1 Heat 1 tbs oil in a large frying pan over medium-high heat. Drop small pieces of the sausage filling into the pan and cook, turning often, until evenly browned. Transfer to a plate.
Step 2 Add remaining 1 tbs oil to pan and heat over medium heat. Add onion, fennel and garlic and cook, stirring often, for 5 minutes or until fennel is just tender. Add pasta sauce, ⅓ cup water and sausage pieces. Stir to combine. Reduce heat to medium-low, cover and simmer, stirring occasionally, for 20 minutes.
Step 3 Meanwhile, cook spaghetti in a large saucepan of boiling water, following packet directions, until al dente. Drain and return pasta to pan. Add fennel mixture, lemon juice, olives and three-quarters of the parsley. Toss over low heat until combined. Season with salt and pepper to taste. Sprinkle with lemon rind and remaining parsley and serve.
Good for you ...
Fennel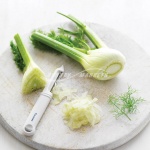 A good source of dietary fibre, which helps the intestine function normally and also vitamin C, a vitamin that contributes to the function of the body's normal immune system.
Has virtually no fat and few kilojoules so is a useful food for those trying to control weight.
A source of potassium.