Fennel, orange & spinach salad with fish
Fennel, orange & spinach salad with fish
Prep 25 mins | Cook 10 mins | Serves 4
2 large oranges
1 large bulb fennel, trimmed, halved and very thinly sliced
1⁄2 cup flat-leaf parsley leaves, chopped
50g baby spinach leaves
75g small black olives
2 tbs extra virgin olive oil
2 tsp sherry or white wine vinegar
2 tbs olive oil
1⁄4 cup pine nuts
4 x 200g white fish fillets (like blue-eye or kingfish)
Step 1 Peel, remove pith and segment the oranges. Place segments into a large bowl. Add fennel, parsley, spinach and olives. Toss to combine. Set aside.
Step 2 To make dressing, combine extra virgin olive oil and vinegar in a screw-top jar. Season with salt and pepper to taste. Shake until well combined.
Step 3 Heat 1 tbs olive oil in a large non-stick frying pan over medium heat. Add pine nuts and cook, tossing often, for 1-2 minutes until golden. Using a slotted spoon transfer to a plate lined with paper towel. Season fish with salt and pepper. Heat remaining 1 tbs oil in pan, add fish and cook for 3-5 minutes on each side (depending on thickness) or until just cooked through. Drain on paper towel.
Step 4 Add pine nuts and dressing to fennel salad. Gently toss to combine and serve with fish.
Good for you ...
Fennel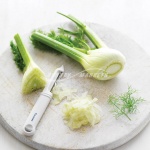 A good source of dietary fibre, which helps the intestine function normally and also vitamin C, a vitamin that contributes to the function of the body's normal immune system.
Has virtually no fat and few kilojoules so is a useful food for those trying to control weight.
A source of potassium.