English spinach & cashew dip
English spinach & cashew dip
Prep 10 mins | Cook 1 mins | Makes 1½ cups
If preferred, use 150g baby spinach leaves instead of the bunched English spinach.
1 bunch English spinach, trimmed (about 150g trimmed leaves)
1 cup roasted cashews
1 tbs tahini
1/3 cup lemon juice
1 garlic clove, crushed
2 tbs extra virgin olive oil + extra for drizzling
2 tbs water
Grissini or crackers and fresh vegetable sticks, to serve
Step 1 Wash spinach in cold water. Bring a frying pan of water to the boil over high heat. Add spinach, cover and cook for 1 minute or until just wilted. Drain and refresh in cold water. Squeeze spinach in your hands to remove excess water.
Step 2 Place spinach, cashews, tahini, lemon juice, garlic, oil and water into a food processor. Process until smooth. Season with salt and pepper to taste.
Step 3 Spoon dip into a serving bowl. Drizzle with extra virgin olive oil. Serve with grissini or crackers and fresh vegetable sticks.
Good for you ...
English Spinach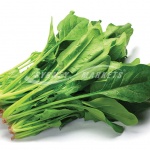 Although the iron in spinach is not well absorbed, its high content of vitamins C, E, beta carotene (converts to vitamin A in the body), niacin (B3), folate, vitamin B6 plus its magnesium and potassium make it one of the most valuable vegetables.
Spinach is rich in an antioxidant called lutein, which is important for eye health.
Spinach is an excellent source of dietary fibre, which keeps the intestine functioning normally.