Eggplant, tomato & pine nut salad
Eggplant, tomato & pine nut salad
Prep 20 mins | Cook 5 mins | Serves 6 as a side dish
This salad teams well with barbecued chicken, fish or meat.
2 tbs olive oil
1⁄3 cup pine nuts
500g medium eggplant, trimmed and roughly chopped
2 garlic cloves, finely chopped
350g tomato medley or heirloom tomatoes
1⁄4 cup flat-leaf parsley, chopped
Tahini yoghurt
1⁄2 cup reduced fat Greek style natural yoghurt
11⁄2 tbs tahini*
1 tbs lemon juice
1 garlic clove, crushed
*Tahini is a creamy paste made from sesame seeds, it's available from some greengrocers and supermarkets.
Step 1 To make tahini yoghurt, combine ingredients in a small bowl. Season with salt and pepper to taste and stir to combine. Set aside.
Step 2 Heat oil in a large non-stick frying pan over medium-high heat until hot. Add pine nuts and cook, tossing often, until golden. Remove to a plate with a slotted spoon. Add eggplant to pan and cook, tossing occasionally, for 4-5 minutes until golden on cut sides. Reduce heat to medium. Add garlic and cook, tossing often, until eggplant is just tender. Toss through the pine nuts. Set aside to cool to room temperature.
Step 3 Spoon the tahini yoghurt over the base of a serving platter. Halve tomatoes lengthways (leave smaller tomatoes whole). Scatter tomatoes, eggplant and pine nuts over tahini yoghurt. Sprinkle with parsley, drizzle with extra virgin olive oil if liked, and serve.
Good for you ...
Eggplant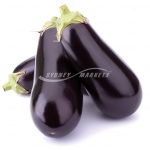 A good source of dietary fibre, which contributes to normal bowel function.
A good source of vitamin B6 that plays a role in hundreds of biochemical reactions in the body, including contributing to energy metabolism.
The purple skin is a rich source of antioxidants