Eggplant, spinach & zucchini rendang curry
Eggplant, spinach & zucchini rendang curry
Prep 20 mins | Cook 30 mins | Serves 4
2 tbs grape seed or vegetable oil
500g eggplant, cut into bite-sized pieces
400g can reduced fat coconut cream
1/2 cup vegetable stock
2 zucchini, cut into 1cm thick slices
1 bunch English spinach, washed and roughly chopped (about 250g trimmed leaves)
Roasted cashews, sliced red chilli, lime wedges and steamed jasmine rice, to serve
Rendang curry paste:
1 medium red onion, roughly chopped
5 garlic cloves
4 small red chillies, deseeded
3 teaspoons finely grated ginger
1 lemongrass stem, trimmed, crushed and chopped (use white part only)
2 teaspoons tamarind puree
1 tsp ground turmeric
Step 1 To make rendang curry paste, place all ingredients into a food processor. Process, scraping down sides of the bowl occasionally, until a finely chopped paste forms. Set aside.
Step 2 Heat oil in a large deep frying pan over medium-high heat. Add eggplant and cook, stirring often, until golden. Transfer to a plate.
Step 3 Add curry paste to the pan and stir over medium-high heat for 2 minutes until fragrant. Add coconut cream and cook, stirring, for 1 minute.
Step 4 Reduce heat, add stock, eggplant and zucchini and gently simmer, stirring occasionally, for 20 minutes or until vegetables are just tender. Stir through spinach and cook until just wilted. Sprinkle with cashews and sliced red chilli and serve with lime wedges and steamed jasmine rice.
Good for you ...
Eggplant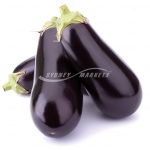 A good source of dietary fibre, which contributes to normal bowel function.
A good source of vitamin B6 that plays a role in hundreds of biochemical reactions in the body, including contributing to energy metabolism.
The purple skin is a rich source of antioxidants