Eggplant, lime & tofu laksa
Eggplant, lime & tofu laksa
Prep 20 mins | Cook 15 mins | Serves 4
350g dried rice noodles
1 tbs rice bran or peanut oil
250g firm tofu, drained and cut into 3cm cubes
1 medium (about 300g) eggplant, cut into 3-4 cm pieces
2 tbs red curry paste
4 cups chicken or vegetable stock
270ml can light coconut milk
2 tsp brown sugar
2 tbs lime juice
To serve
1⁄2 cup bean sprouts, trimmed
1⁄2 cup coriander leaves
1⁄3 cup mint leaves
2 tbs roasted peanuts, chopped
1 small red chilli, thinly sliced
1 lime, cut into wedges
Step 1 Cook noodles in a large saucepan of boiling water for 4-5 minutes until tender. Drain. Divide noodles between four large serving bowls. Set aside. Wipe pan dry.
Step 2 Heat oil in the large saucepan over high heat. Add tofu and cook, turning often, until golden. Transfer with a slotted spoon to a plate. Set aside. Add eggplant and cook for 2-3 minutes until golden. Transfer to the plate. Set aside.
Step 3 Add curry paste to pan and cook, stirring, over medium heat for 1-2 minutes until fragrant. Add stock, coconut milk and sugar. Reduce heat to medium, cover and bring to the boil. Reduce heat and add eggplant. Simmer for 5 minutes.
Step 4 Add tofu and lime juice to pan and simmer for 1 minute. Ladle broth over noodles in serving bowls. Top each with bean sprouts, coriander, mint, peanuts and chilli. Serve with lime wedges.
Good for you ...
Eggplant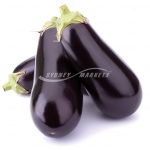 A good source of dietary fibre, which contributes to normal bowel function.
A good source of vitamin B6 that plays a role in hundreds of biochemical reactions in the body, including contributing to energy metabolism.
The purple skin is a rich source of antioxidants