Eggplant, capsicum & tomato salad with tahini yoghurt
Eggplant, capsicum & tomato salad with tahini yoghurt
Prep 20 mins | Cook 15 min | Serves 4-6
¼ cup olive oil
2 tsp sumac
1 garlic clove, crushed
2 x 350g eggplants, cut into 1cm thick slices
1 yellow capsicum, halved, seeded and cut lengthways into 1cm-thick strips
½ small red onion, very finely sliced
400g tomato medley or mini heirloom tomatoes, halved
2 Lebanese cucumbers, halved lengthways and thinly sliced
1/2 cup flat-leaf parsley leaves, roughly chopped
Extra virgin olive oil, for drizzling
Tahini yoghurt:
¾ cup Greek-style natural yoghurt
2 tbs tahini
1 garlic clove, finely minced
2 tbs lemon juice
1 tsp finely grated lemon rind
Step 1 Combine oil, sumac and garlic in a small bowl. Brush mixture over eggplants. Heat a large char-grill pan over medium-high heat. Char-grill eggplants and capsicums, in batches, turning often, for 4-5 minutes until golden. Set aside to cool.
Step 2 To make tahini yoghurt, combine all ingredients in a small bowl. Season with salt and pepper. Mix to combine.
Step 3 Smear half of the tahini yoghurt onto a large serving platter. Top with eggplants, capsicum, onion, tomatoes, cucumbers and parsley. Drizzle with extra virgin olive oil. Serve with remaining tahini yoghurt sprinkled with a little extra sumac if liked.
Good for you ...
Eggplant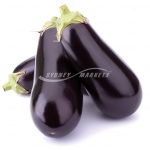 A good source of dietary fibre, which contributes to normal bowel function.
A good source of vitamin B6 that plays a role in hundreds of biochemical reactions in the body, including contributing to energy metabolism.
The purple skin is a rich source of antioxidants