Eggplant & mushroom lamb burgers
Eggplant & mushroom lamb burgers
Prep 30 mins + chilling time | Cook 20 mins | Serves 4
350g eggplant, trimmed and cut into 1cm thick slices
4 brioche or seeded bread rolls, halved
50g baby rocket leaves
2 ripe truss tomatoes, sliced
250g tub reduced fat tzatziki
Mushroom & lamb patties:
1 tbs olive oil
200g button mushrooms, finely chopped
1 brown onion, finely chopped
1 garlic clove, crushed
400g lean lamb mince
⅓ cup flat-leaf parsley leaves, finely chopped
1 tsp ground cumin
Step 1 To make patties, heat 1 tbs oil in non-stick frying pan. Add mushrooms, onion and garlic. Cook, stirring occasionally, for 4-5 minutes until mushrooms are tender. Set aside to cool slightly. Place mushroom mixture, lamb mince, parsley and cumin into a large bowl. Season with salt and pepper. Mix until well combined. Shape mixture into 4 patties. Place on a tray lined with baking paper, cover and chill for 15 minutes.
Step 2 Preheat a char-grill or barbecue over high heat. Brush patties and eggplant slices with oil. Char-grill or barbecue patties for 5-6 minutes on each side and eggplant for 2-3 minutes on each side until just cooked through. Transfer to a plate. Char-grill or barbecue bread rolls.
Step 3 Place bread roll bases onto a board. Top each with a dollop of tzatziki, rocket, a pattie, sliced tomato and eggplant, finishing with another dollop of tzatziki. Add roll tops and serve.
Good for you ...
Eggplant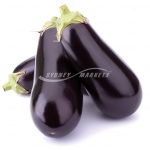 A good source of dietary fibre, which contributes to normal bowel function.
A good source of vitamin B6 that plays a role in hundreds of biochemical reactions in the body, including contributing to energy metabolism.
The purple skin is a rich source of antioxidants