Easy veggie finger food for entertaining
Easy veggie finger food for entertaining
Prep 45 mins
Tomato, bocconcini & basil mini-skewers (makes 16)
16 ripe grape tomatoes (about 3⁄4 punnet)
16 basil leaves
180g tub cherry bocconcini, drained
Extra virgin olive oil, to serve
Thread a tomato, a basil leaf and a bocconcini ball onto a small skewer. Repeat using all ingredients. Drizzle with oil to serve.
Cucumber with smoked salmon & crème fraîche (makes 16)
2 small Lebanese cucumbers, cut diagonally into 16 thin rounds
100g sliced smoked salmon, trimmed and cut into 16 pieces
1/3 cup crème fraîche or sour cream
1 tbs dill leaves
Top each cucumber slice with a piece of salmon, a dollop of crème fraîche or sour cream. Top each with dill, season with pepper and serve.
Button mushrooms with beet dip (makes 8)
8 small button mushrooms, stems trimmed
1⁄3 cup beetroot dip (or use your favourite dip)
Mustard cress or micro herbs, for garnishing
Fill each mushroom with a dollop of dip. Garnish with mustard cress or micro herbs and serve.
Good for you ...
Button Mushrooms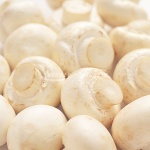 Fresh mushrooms differ from vegetables in that they supply mainly B group vitamins rather than contributing vitamin C and carotenoids (which are converted in the body to vitamin A).
They are a source of riboflavin (vitamin B2) and niacin, both of which contribute to the normal release of energy from food. They are also a source of the B vitamins pantothenic acid and biotin which both contribute to normal metabolism of fat.
A source of selenium, a mineral which contributes to the maintenance of hair and nails and the way the body uses iodine in its production of thyroid hormones.