Easy roast quinces
Prep about 30 mins | Cook 21⁄2 hrs + cooling time | Serves 6
2 cups water
11⁄3 cup brown sugar
1⁄3 cup lemon juice
2 cinnamon sticks
1 vanilla bean, halved lengthways
6 medium quinces
Thick natural yoghurt or ice-cream, to serve
Step 1 Preheat oven to 180°C/160°C fan-forced. Combine water, sugar, lemon juice and cinnamon sticks in a deep medium baking dish. Using a teaspoon, scrape vanilla bean seeds into sugar mixture. Add pod to pan. Stir to combine.
Step 2 Using a sharp knife, individually cut a quince into eight wedges. Peel and core and place into sugar and lemon mixture in the baking dish (to prevent browning). Repeat using remaining quinces. Press a sheet of baking paper directly over quinces to cover, then place a sheet of foil over pan and seal well. Bake, without disturbing, for 21⁄2 hours. Remove from oven and cool in pan (with covers left on) for 30 minutes. Serve warm with thick natural yoghurt or ice-cream.
Good for you ...
Quince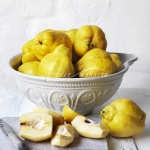 A very good source of dietary fibre, which is important for the normal functioning of the intestine.
A very good source of vitamin C. This vitamin contributes to the formation of collagen which plays a role in healthy gums, teeth, cartilage, bones and skin.
Provide potassium which may help balance the effects of sodium from salt.