Easy potato & leek soup
Preparation 20 mins | Cooking 45 mins | Serves 4-6
Note, this soup thickens on standing, add extra stock if necessary.
1 tbs olive oil
2 medium leeks, trimmed, halved lengthways and thinly sliced
2 garlic cloves, finely chopped
750g Desiree potatoes, peeled and chopped
6 cups chicken or vegetable stock
1/4 cup reduced fat sour cream
Wholegrain toast, to serve
Step 1 Heat oil in a large saucepan over medium heat. Add leeks and cook, stirring occasionally, for 8-10 minutes until softened. Add garlic and potatoes and cook, stirring occasionally, for 5 minutes.
Step 2 Stir in stock, cover and bring to the boil over medium-high heat. Reduce heat, cover and simmer for 20-25 minutes until potato is tender. Set aside to cool slightly.
Step 3 Using a hand-held blender, puree the soup until smooth. Stir in sour cream. Season with salt and pepper to taste. Warm the soup over low heat. Ladle into serving bowls and top with one of the following soup toppers if liked.
Suggested soup toppers:
Pan-toasted mixed seeds and grated cheddar cheese
Pan-fried diced chorizo sausage or bacon and snipped chives
A drizzle of sriracha sauce and fried kale leaves
Good for you ...
Desiree Potatoes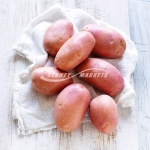 A source of vitamin C, a vitamin that contributes to the normal structure and function of blood vessels throughout the body.
A source of dietary fibre, especially if the skin is left on. Dietary fibre contributes to normal laxation. The skin of potatoes also helps retain vitamins during cooking.
Provides potassium which may help balance sodium from salty foods.