Easy orange, carrot & almond cake
Easy orange, carrot & almond cake
Prep 20 mins | Cook 1 hr + cooling time | Serves 8
This moist Moroccan-style cake is a breeze to make in a food processor.
1 orange, unpeeled and coarsely chopped
150g butter, melted
¾ cup caster sugar
2 free-range eggs
1 tsp vanilla extract
1 cup grated carrot (about 2 medium carrots)
1½ cups plain flour
1 cup ground almonds
3 tsps baking powder
½ tsp ground cinnamon
½ tsp ground ginger
½ cup natural flaked almonds
Greek-style natural yoghurt, to serve
Step 1 Preheat oven to 180°C/160°C fan-forced. Grease and line the base and sides of a 22cm round spring-form cake pan.
Step 2 Place unpeeled orange in food processor and process until finely chopped. Add butter, sugar, eggs and vanilla. Process until well combined. Add carrot, flour, ground almonds, baking powder and spices. Process until well combined.
Step 3 Pour mixture into prepared pan. Scatter top with flaked almonds. Bake in oven for 1 hour – 1 hour 10 minutes or until skewer inserted in the centre comes out clean. Cool in pan for 30 minutes then turn onto wire rack to cool completely. Slice and serve with yoghurt.
Good for you ...
Navel Oranges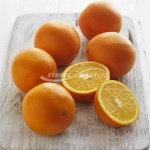 A very good source of vitamin C which contributes to the formation of collagen and its role in healthy gums, teeth, cartilage, bones and skin. Half a large orange supplies one day's recommended intake of vitamin C.
Provides a variety of carotenoids, including some beta carotene which is converted to vitamin A in the body.
A source of folate, a B vitamin that contributes to the normal functioning of the body's immune system.
Low GI (40-51) meaning that the sugars in oranges are broken down slowly and absorbed into the bloodstream.