Easy minestrone soup
Prep 20 mins | Cook 70 mins | Serves 4
2 tbs olive oil
2 garlic cloves, crushed
1 onion, finely chopped
2 medium carrots, peeled, halved lengthways and sliced
2 sticks celery, thinly sliced
1⁄4 small Chinese cabbage, shredded
2 zucchini, sliced
4 cups beef or vegetable stock
810g can peeled whole tomatoes, chopped
250g green peas, shelled
Grated parmesan cheese, to serve
Step 1 Heat oil in a large saucepan over medium-high heat. Add, garlic and onion and cook, stirring often, over medium heat for 3–4 minutes until onion is tender. Add carrots and celery and cook, stirring occasionally, for 3 minutes.
Step 2 Add cabbage, zucchini, stock and chopped tomatoes. Stir to combine. Cover and bring to the boil over medium-high heat. Reduce heat and simmer, partially covered and stirring occasionally, for 1 hour. Stir in peas and cook for 5 minutes. Season with salt and pepper to taste. Serve soup with grated parmesan cheese.
Good for you ...
Garlic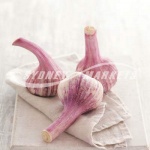 Although not normally consumed in sufficient quantities to supply substantial quantities of nutrients, garlic will provide small quantities of dietary fibre, minerals and vitamins.
Sulphur compounds in garlic have the potential to relax blood vessels. The jury is out on whether the quantities are sufficient to have an impact on heart disease risk factors.