Cucumber, garlic & yoghurt dip (tzatziki)
Cucumber, garlic & yoghurt dip (tzatziki)
Prep 25 mins + chilling time | Makes 2 cups
3 medium Lebanese cucumbers
11⁄2 cups thick Greek-style natural yoghurt
3 garlic cloves, crushed
1⁄2 cup mint leaves, finely chopped
2 tbs dill sprigs, finely chopped
1 tbs lemon juice
1 tbs olive oil
Step 1 Coarsely grate cucumbers and place in a colander. Sprinkle with salt, cover with a plate and place a heavy weight on top (i.e. a can of food) and leave to drain for 15 minutes. Squeeze out excess juice and place cucumbers into a bowl.
Step 2 Add yoghurt, garlic, mint, dill, lemon juice and olive oil to cucumbers. Season with salt and pepper to taste. Mix until well combined. Cover and chill for 3 hours or overnight (for flavours to develop) before serving.
Serve with: Barbecued lamb or chicken kebabs and grilled tomatoes.
Good for you ...
Lebanese Cucumber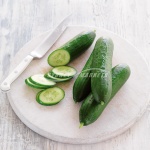 A good source of vitamin C. One of the many functions of vitamin C is the normal formation of collagen which is important for healthy teeth, gums and skin.