Crunchy vegetable & chicken laksa
Crunchy vegetable & chicken laksa
Prep 20 mins | Cook 15 mins | Serves 4
For ease, use the flesh from half a barbecued chicken for this recipe.
250g dried rice vermicelli noodles
1 tbs peanut oil
1⁄2 cup laksa paste
4 cups chicken stock
2 tsp brown sugar
2 cups light coconut milk
2 cups shredded cooked chicken
1⁄2 cup coriander leaves, chopped
To serve:
1⁄2 cup bean sprouts, trimmed
1 Lebanese cucumber, peeled, halved and cut into matchsticks
12 cherry tomatoes, halved
1⁄2 cup fresh mint and coriander leaves
2 green onions, finely sliced diagonally
2 kaffir limes leaves, finely shredded (optional)
Step 1 Place noodles in a heatproof bowl.  Cover with boiling water. Set aside for 5 minutes or until tender. Drain and set aside.
Step 2 Heat a wok over high heat until hot. Add oil and heat. Add laksa paste and stir-fry for 2-3 minutes or until fragrant. Add stock and sugar and bring to the boil.  Reduce heat to medium-low. Add coconut milk, stirring constantly until hot. Add chicken. Chop half the coriander and add to soup. 
Step 3 To serve, divide noodles between 4 deep serving bowls. Ladle over remaining laksa soup. Top with bean sprouts, cucumber, tomatoes, mint and coriander leaves, green onions and kaffir lime leaves (if using) and serve.
Good for you ...
Lebanese Cucumber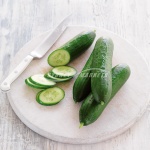 A good source of vitamin C. One of the many functions of vitamin C is the normal formation of collagen which is important for healthy teeth, gums and skin.