Crunchy potatoes with cheddar cheese crumbs
Crunchy potatoes with cheddar cheese crumbs
Prep 20 mins | Cook 1 hr 15 mins | Serves 4-6
A great vegetable side dish for any meal, particularly a roast!
Top tip: When preparing potatoes, place a chopstick on either side of the cut potato to prevent cutting right through the potato.
6 (about 200g each) Desiree potatoes
Olive oil cooking spray
1⁄2 cup fresh wholegrain breadcrumbs
1⁄2 cup grated reduced fat cheddar cheese, finely grated
Step 1 Preheat oven to 180°C/160°C fan-forced. Peel potatoes and halve lengthways. Place a halved potato cut-side down onto a board. Slice thin, evenly–spaced cuts, about two thirds of the way through potato. Repeat using remaining potatoes. Liberally spray potatoes with oil and place cut-side down onto a baking tray lined with baking paper. Bake for 50-55 minutes until tender.
Step 2 Combine breadcrumbs and cheese. Remove potatoes from oven. Sprinkle breadcrumb mixture over potatoes. Bake for a further 12-15 minutes until golden and crunchy. Serve immediately.
Good for you ...
Desiree Potatoes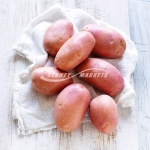 A source of vitamin C, a vitamin that contributes to the normal structure and function of blood vessels throughout the body.
A source of dietary fibre, especially if the skin is left on. Dietary fibre contributes to normal laxation. The skin of potatoes also helps retain vitamins during cooking.
Provides potassium which may help balance sodium from salty foods.