Crumbed eggplant with easy minted tzatziki
Crumbed eggplant with easy minted tzatziki
Prep 20 mins | Cook 15 mins | Serves 6 as a starter or side dish
3⁄4 cup plain flour
2 free-range eggs
1⁄4 cup milk
2 cups dried breadcrumbs
2 medium (about 400g each) eggplants, cut into 1– cm thick slices
Olive oil or rice bran oil, for shallow frying
Lemon wedges, to serve
Easy Minted Tzatziki
200g tub reduced fat tzatziki dip
1⁄2 cup mint leaves, finely chopped
1 tsp lemon juice
Step 1 To make easy minted tzatziki, place dip, mint and lemon juice into a small bowl. Season with salt and pepper to taste. Stir to combine. Set aside for flavours to develop.
Step 2 Place flour in a shallow bowl and season with salt and pepper. Combine eggs and milk in another shallow bowl. Place breadcrumbs in a bowl. Coat each eggplant slice in a light dusting of flour then dip in egg mixture and coat in breadcrumbs, pressing crumbs to secure. Once coated, place onto a large plate.
Step 3 Heat 1⁄2 cm oil in a large frying pan over medium-low heat. Cook eggplant in batches, for 1-2 minutes on each side until golden. Drain on paper towel. Serve eggplant with tzatziki and lemon wedges.
Good for you ...
Eggplant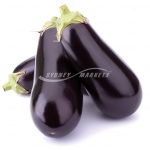 A good source of dietary fibre, which contributes to normal bowel function.
A good source of vitamin B6 that plays a role in hundreds of biochemical reactions in the body, including contributing to energy metabolism.
The purple skin is a rich source of antioxidants